United Nations Institute for Training and Research (UNITAR)

An autonomous UN body established in 1963, the United Nations Institute for Training and Research (www.unitar.org) is a training arm of the United Nations System, and has the mandate to enhance the effectiveness of the UN through diplomatic training, and to increase the impact of national actions through public awareness-raising, education and training of public policy officials.

UNITAR provides training and capacity development activities to assist mainly developing countries with special attention to Least Developed Countries (LDCs), Small Island Developing States (SIDS) and other groups and communities who are most vulnerable, including those in conflict situations. The Institute covers topics in the broad areas of supporting capacity for the 2030 Agenda, strengthening multilateralism, advancing environmental sustainability and green development, improving resilience and humanitarian assistance, promoting sustainable peace, and promoting economic development and social inclusion.
CIFAL Global Network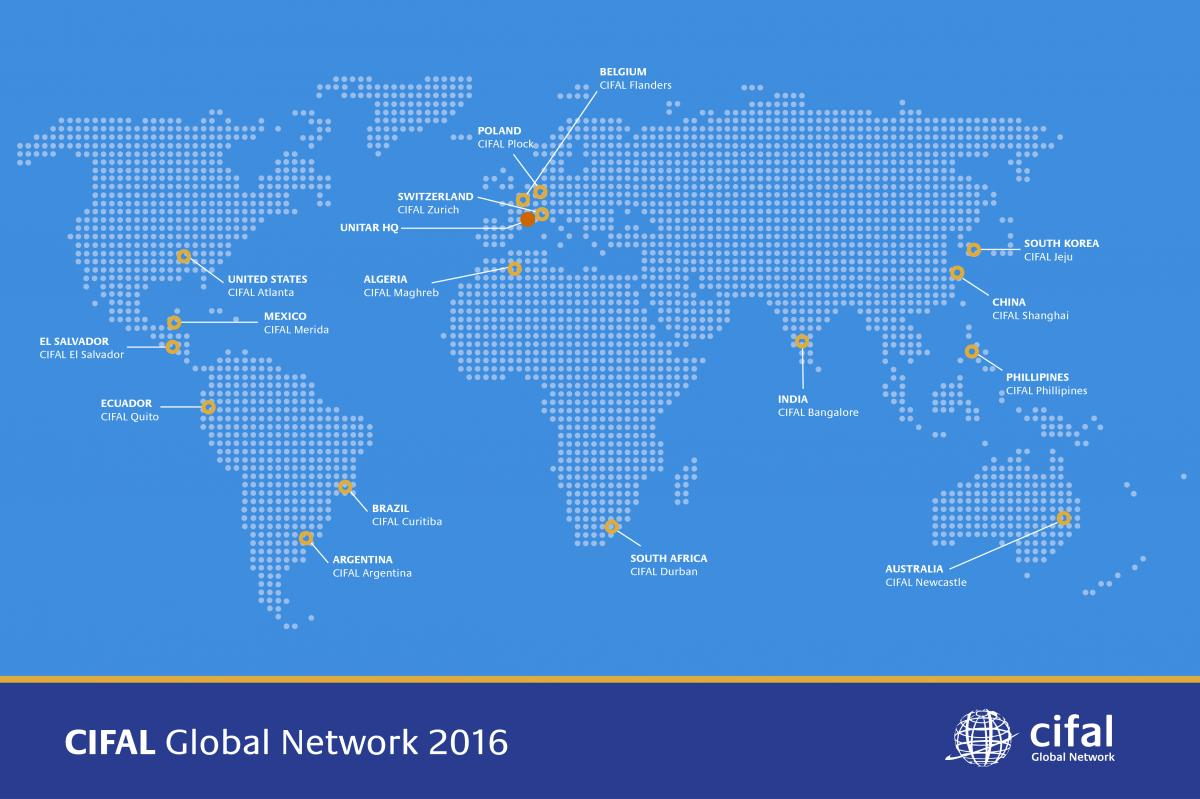 The CIFAL Global Network is composed of 16 International Training Centres for Authorities and Leaders. These CIFAL centres are located across Asia, Africa, Australia, Europe, the Americas and the Caribbean. The network provides innovative training throughout the world and serves as a hub for the exchange of knowledge amongst government officials, the private sector and civil society.

This network of affiliated training centres is coordinated by UNITAR's Decentralized Cooperation Programme (DCP). Every centre is managed locally by a host institution with UNITAR providing academic content, technical support and quality assurance measures for its capacity-building activities. The majority of DCP's training services are delivered through the CIFAL Global Network.
CIFAL Argentina (Argentina)
CIFAL Atlanta (United States)
CIFAL Bangalore (India)
CIFAL Curitiba (Brazil)
CIFAL Durban (South Africa)
CIFAL El Salvador (El Salvador)
CIFAL Flanders (Belgium)
CIFAL Jeju (South Korea)
CIFAL Maghreb (Algeria)
CIFAL Philippines (Philippines)
CIFAL Merida (Mexico)
CIFAL Newcastle (Australia)
CIFAL Plock (Poland)
CIFAL Quito (Ecuador)
CIFAL Shanghai (China)
CIFAL Zurich (Switzerland)