China Aid Training
I. Structure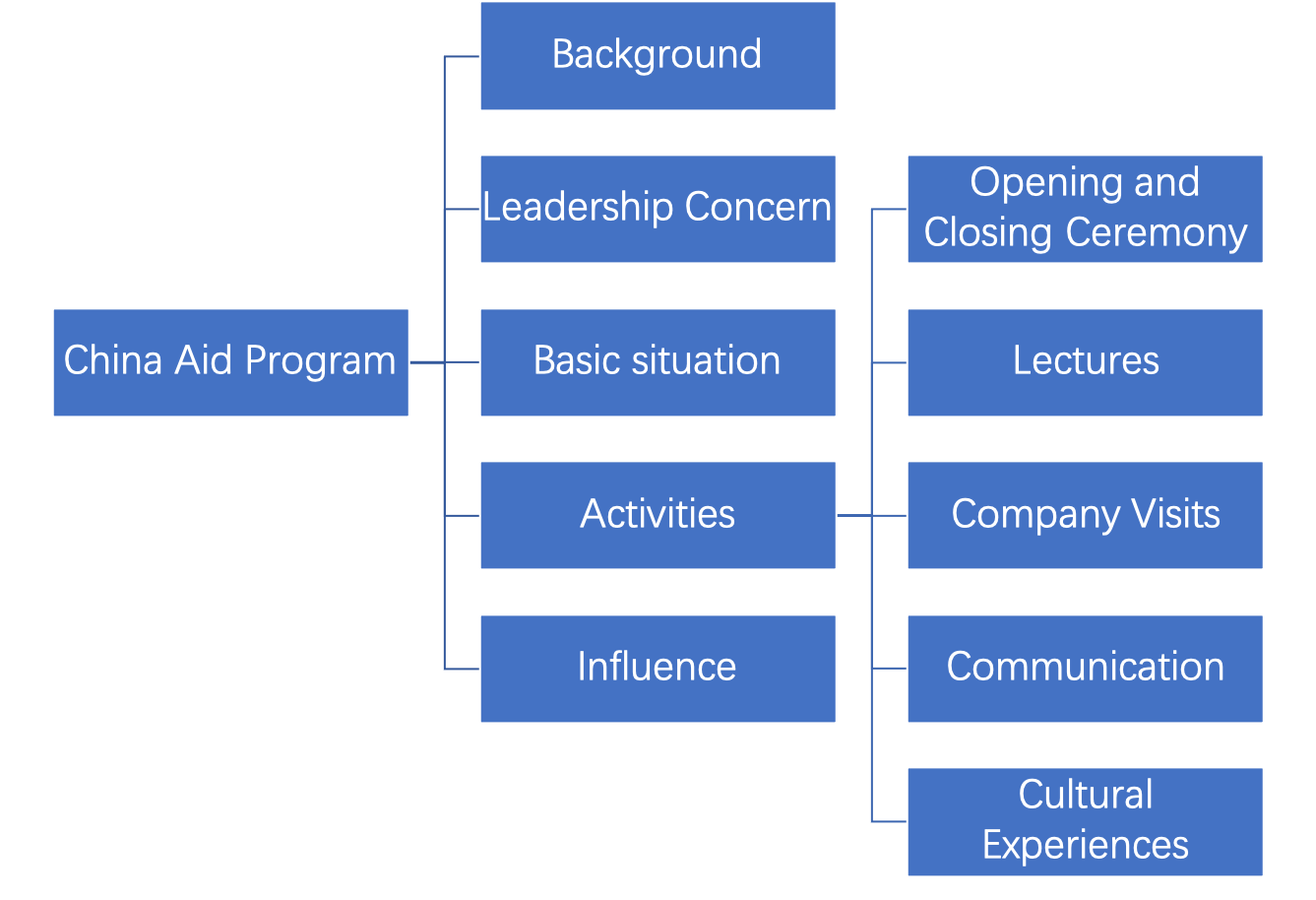 II.Content
1. Background
China aid program began in 1950. Adhering to the principle of the equality and mutual benefit without any political conditions, it is committed to developing the economic and society of the recipient countries and to improving people's lives. It pays attention to practical results and has been positively appraised by the majority of developing countries.
China Aid Training Program (CATP) attaches importance to cultivating and enhancing the independent development ability of recipient countries, undertakes the important responsibility of international economic and technological exchanges and cooperation, and undertakes the glorious mission of spreading Chinese culture and promoting the harmonious development of the world. It has enhanced the understanding and trust between China and recipient countries, promoted the development of bilateral relations, and promoted the harmonious development of foreign economic cooperation. The program mode has expanded from practical technology training to academic education, official seminar, visit and exchange, covering more than 20 fields such as agriculture, economy and trade, education, health, information technology, etc. It has been an important carrier to reflect China's national cultural "soft power" and international influence.
CIFAL Shanghai International Training Center has been honored to be one of the CATP organizers in 2009. All along, CIFAL Shanghai has won the implementation of the participants and accumulated some experience by its professional, warm, friendly and equal treatment. And also has made a modest contribution to China aid program. If you share your happiness with others, you will get double happiness; if you share your achievements with others, you will get double achievements. We hope that China aid program could be the window of international talent training, exchange and cooperation. Also could cultivate more talents, and could be the bridge of communication and friendship with the developing countries and regions.
2. Leadership Concern
The success of CATP in CIFAL Shanghai is inseparable from the leadership, strong support and careful guidance of the China International Development Cooperation Agency, Department of foreign investment and economic cooperation, Ministry of Commerce, Academy for International Business Officials (AIBO), MOFCOM, Shanghai Municipal Commission of Commerce, Shanghai Economic and Information Technology Commission and Shanghai Academy of Social Sciences.
The leading units of higher levels point out the direction and foothold of the CATP. Moreover, from program application to program follow-up and emergency handling, they provide guidance and help in all aspects. During the program, leaders at all levels visit the site to guide the work many times, give lectures, care about the participants' life and learning in China, and have cordial discussions with them.
3. Basic Situation
Since 2009, CIFAL Shanghai has held 70 training activities, 1939 officials and technicians from 143 developing countries has attended the training.
4. Activities
1)Opening and closing ceremony
Warm, orderly, concise and courteous opening and closing ceremonies have great significance for deepening understanding of the CATP purpose, summarizing the effectiveness of training, consolidating and further deepening friendship, and promoting cooperation.
2)Lectures
CIFAL Shanghai closely focuses on the theme of the program, combines the actual conditions of the invited country and the current hot topics, designs courses carefully, enhances the pertinence and practicality of training, highlights case teaching and increases interactive teaching links. We pay attention to communicate with government departments, scientific research institutes, and enterprises, continuously to improve the selection of teachers, enrich the composition of teachers, innovate teaching methods, expand curriculum areas, and continuously update teaching content. Our lectures are well received by the participants.
3)Company Visits
According to the different themes of CATP activities and the needs of the participants, we select relevant government departments, scientific research institutes and advanced enterprises located in different districts to visit. It enables participants to have a comprehensive understanding of the current situation of China's economic and social development, have a more intuitive understanding of China's development experience in related fields. Face-to-face communication not only helps participants to have a deeper understanding of "Made in China", but also creates a new channel for the Chinese company's "going out" strategy.
4)Communication
During the program, a variety of communications on different topics are held which established an exchange platform for the Chinese government, enterprises and all participants from different countries, broadened cooperation channels and promoted cooperation in different fields such international trade and information communication technology with the vast number of developing countries and the countries along the "Belt and Road". Briefly, communications have great significance for all the participants.
5)Culture Experience
Culture is playing an increasingly important role in international exchange and communication. Cultural exchange has become a key element in promoting international mutual understanding. CIFAL Shanghai integrates Chinese cultural elements into the CATP, focuses on cultural exchanges with developing countries and builds a bridge of communication and understanding for participants.
5. Influence
CIFAL Shanghai makes full use of the China aid program platform to build a window for Chinese development concepts and Chinese culture, build a platform for negotiation of economic, trade and technological cooperation. In this way, we build a cooperation and communication network as well as a bridge of friendship covering more than 100 countries around the world.